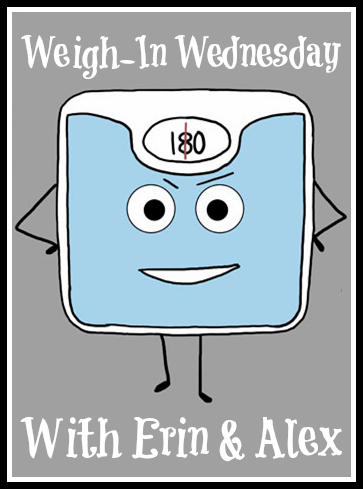 Time to Weigh in with Erin and Alex. I FINALLY showed a decent loss this week - down 2.4 lbs. to 203.4. That put me past my first Weight Watchers goal of 5% and my first 10 pounds (actually, 11.8) and I feel like I finally got past the last few weeks of 0.1, 0.1, 0.4 losses....anything less than one full pound just doesn't truly feel like an accomplishment to me.
One thing I really HATE about the Weight Watchers meetings is the beginning, when the leader reaches into her tickle trunk to pull out her stickers, and asks "who has a celebration to share?" People start putting up their hands for everything! "0.4 lbs down!" Yay, everyone starts clapping, and that person gets themselves a sticker to put in their book. Now, PLEASE believe me, I'm not at all trying to criticize that person that is proud of their loss....I'm totally on board with it. It just feels so juvenile to get a sticker, and to have all these grown ass women (and men occasionally) clapping for each other. I ALWAYS dread that part of the meeting (although don't think I didn't shoot my hand up into the air , feeling all superior week 1 when I lost 6.6 lbs....oh yes I did!)
This week, we had a different leader for our meeting. And guess what? She FORGOT to do the celebrations. And I was sitting there all "but wait a minute, I lost my first 10 lbs....aren't I suppose to get something for that? A sticker? A ribbon? A key chain or something!?!" I swear to you that it bothered me through the whole meeting. "Maybe she'll do it at the end" I thought - nope, meeting wrapped up, nothing, nada, NO KEY CHAIN FOR YOU! (did you read that in the voice of the soup Nazi? Cause that's what I heard when I was writing it.) I left feeling slightly deflated, but reminded myself that the regular leader will be there next week, and I will still be 10+ pounds down, and I can announce it for everyone to hear at that point. I realized that perhaps there really is something to those celebrations after all. Maybe that little sticker, ribbon, key chain, WHATEVER really does, in some small way, contribute to my good mood, and give me a little boost to help me past the next hurdle. They do say that members who attend meetings have a better success rate than those who don't. So maybe there is something to it after all....
How did you do this week? Do you like it when you get a little something to congratulate you on your accomplishments?