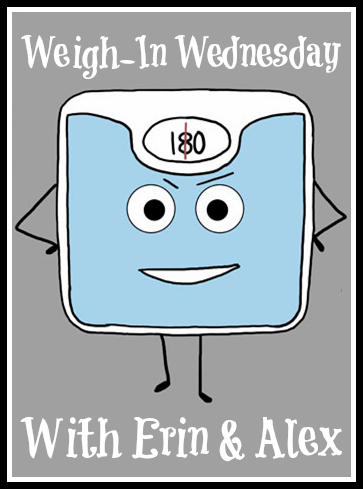 I'm linking up again for Weigh-In Wednesday. Click the image above to see everyone else's progress.
This week I lost........0.8 lbs. At this rate, I should be at my goal in approximately 1 year!!! I always think, thank God for digital scales, or you would barely know that my weight is decreasing these past 3 weeks!!
Not gonna lie, very frustrated with such a slow weight loss. The last time I lost an significant amount of weight, it came off fairly quickly, 2 to 3 pounds a week. AND THAT'S THE WAY I LIKE IT! Maybe I'm not eating "clean" enough this time around. I really like following Weight Watchers, because no food is off limits, everything in moderation, and I do think, in the long run, this is probably the better way for me to lose. Becuase let's face it, the last time the weight was melting off of me, I took it off in a short amount of time, and gained it back even faster. Because it wasn't a sustainable way of living.....it was OK for the short term, but it didn't last. Let's hope that this time....IT LASTS!
So I vow to pay a little closer attention to my points this week (because let's not forget, I did have a girl's night out last night and didn't really count the points too closely!) and I also vow to get some activity in EVERY, SINGLE DAY! Oh ya, and to get moving on that
FAB AB FEBRUARY
challenge that I keep forgetting to do every single night! I've only done it once this whole month! (I do work my abs almost every day, either in yoga, or personal training sessions, but I wanted this to be a little something extra.) I think I'll just start fresh and not worry about what day I do what on, just start from the beginning and cross off each day as I complete it......