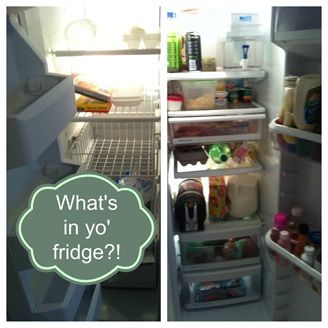 Today I'm linking up with
Holly
for a What's in yo' fridge?! post. Thanks for the idea Holly, the suggestion came at a great time, I was just about to sit down and figure out a post for today....
So here's my fridge...
One of the things I ALWAYS have on hand is Almond Milk. We never buy regular milk anymore, it's a perfect substitute, although I'm not sure it would really be that great if you were looking for milk by the glass. We don't really do that around here, and I find anything I need to put milk into, I can substitute almond milk, and really not know the difference. That is ORIGINAL almond milk, not vanilla. It's also low in Weight Watcher points, so that's a bonus.
We also always have Greek yogurt on hand, the lower fat the better. Ever since tasting Greek yogurt, I've never gone back to any other type, I find it so thick and creamy, even if it's low fat. I also never buy sour cream anymore, I substitute plain Greek yogurt, it tastes almost exactly the same.
I try to keep a good supply of blueberries, raspberries, and cut up strawberries, to add to yogurt or cereal. I was SO happy when Weight watchers made fruit zero points. I don't think anyone ever got fat eating too much fruit! Just sayin'....
Another staple I like to keep on hand all the time is hard boiled eggs. I like the brown ones 'cause they're prettier.....and at 2 points a piece, they make a great, on the go lunch.
I always have some lunch meats, I like to buy these Naturals because apparently they don't have any of the extra stuff that makes deli meat so bad for you. These are low in points, and fill you up. Babybel light cheese are another great, low point snack. Shredded Mozzarella, probably filled with chemicals and stuff, but quick and easy, and that usually wins around here.



I have 3 of these cups that you freeze, the gel inside them helps to keep them cold longer. I put one frozen lemon/lime wedge into it and the water stays cold quite a long time. I did a blog post about it
here
you basically cut up lemon and lime slices, place them in a muffin tin, add water, then pop them out like ice cubes. I leave them in a Ziploc bag, and they are ready to go.

Other staples in my fridge would be chicken, fish, lean ground beef. Most of our meals use one of these 3 things as a base, chicken more often than not. I was being fabulous and making all my meals for the week on Sunday, but kind of fell off of that lately and have been winging it, just cooking as I get home. My plan is to sit down one of these days and plan out 4 weeks of meals, then start rotating them, but haven't gotten to it just yet. I"m famous for my procrastination!
Thanks for joining me on my fridge tour. What is it about peeking into peoples houses/fridges/purses that we find so entertaining? I don't know, but I like it!