First things first, my giveaway for a copy of Melanie Shankle's book "Sparkly Green Earrings" and a pair of sparkly green earrings courtesy of Limefreckle is over! Congratulations to Allison Bahr! I've sent you an email Allison, hope you love the book AND the earrings!

The next giveway will be when I reach 100 followers. So if you aren't following me already, why not? All the cool kids are doing it!

Today I'm joining Katie and Alexis for a great link up I've just discovered.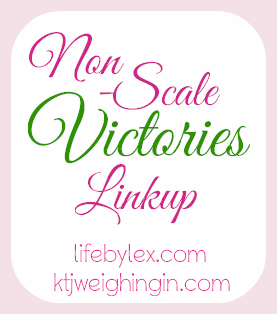 Too often I judge my success by the number on the scale, but really I've had so many more "aha" moments in my journey as of late, so it's time to start celebrating them.
This week my non scale victory is going to be my conquering after school eating. I've been an after school binge eater for quite some time. Started way back in the late 70's, when I was a latchkey kid. My brother and I would come home and pretty much gorge on whatever we could get our hands on, no mom was in the kitchen to keep us from making poor decisions. Some of the concoctions we came up with over the years were wierd. One of my brother's favourites was PB&J mixed into ice cream to almost shake like consistency. I would pretty much just eat whatever carbs I could find.
Fast forward all these years, and I still have an after school binge....now I bring Limefreckle Jr. home from school, and my immediate instinct is to sit down and EAT! Not a healthy dinner, but snack stuff, often WAYYYY to much. I've been struggling with this for quite sometime. In the early years, it was probably a way to combat the stress of dealing with autism, and all the lovely behaviours that can come with it. Now those are fewer and further between, but the cravings and the desire to eat is still there.
For a few weeks now though that has been changing. I'm feeling much less of a need to eat, and I'm able to just have a healthy snack and get on with the evening. I think blogging about my weight loss journey has been very instrumental in that change. I won't say I've beaten that monkey off my back, but I feel like I have really good control over it, I'm more aware of it, and mindless eating is just not something I want to engage in anymore.
It's a non scale victory that in the long run means much more than any number on the scale could.