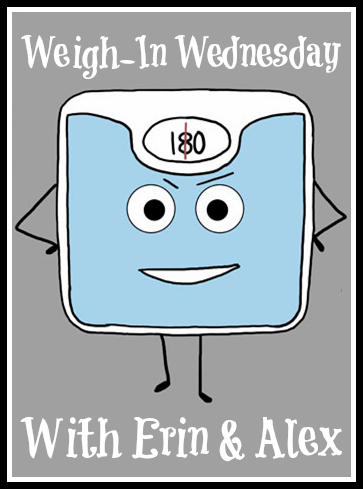 I'm linking up for Weigh -In Wednesday once again with
Erin
and
Alex
. So, may I have a drum roll please????????
I DID IT! I'm under 200 lbs!!!!!!!!!!!!!!!!!!!!!!!!!!!!!!!!!!!!!!!!! Applause, applause (and the crowd goes wild). (those are the noises going on in my head right now!)

I'm SOOOOOO HAPPY to be under 200! I had really hoped I would have crashed through that number a little better, turns out I just squeeked by with 0.2 lbs to spare, but I'll take it.
Now, IN THE SPIRIT OF FULL DISCLOSURE.....I normally get weighed on Fridays. This past friday, at my weigh in, I was 200 lbs. on the nose. That WOULD have been my post. But this week I'm doing something different. I'm joining
Erin
and a whole bunch of others in a Diet Bet, so I had to photograph myself on the scale to submit it. So you betcha, I'm using this weight from now on. I will still get weighed at my Weight Watcher meeting every
Friday.
I will start photographing myself every week, and posting my
Tuesday
weight on the blog, for Weigh in
WEDNESDAY.
Confused yet? And, to top it off, I notice that my scale says 3/3/ 2012.....better fix that.
So, I'm excited about the diet bet, I'm really hoping that it encourages me to get the next 10 lbs. off. WE have to lose 4% of our weight to win prize money, that would be 8 lbs, but I'm aiming for 10. I just realized, after I submitted my pictures to dietbet.com, that I am going to be away when it is time to post the final weight!! I'm going to have to bring my scales with me! Good thing I'm not flying....imagine explain THAT to the grumpy attendant that rolls his eyes because I forgot to dump my water bottle at the security check in.
I'm trying to think of ways to really clean up my diet. I also need to add some extra activity in. I think one of the things I'm going to do is entirely eliminate wine......it's only 1 month and it is for a good cause. (can you hear me trying to talk myself into that?)
Any ideas on what I can do to really amp it up this week?
There is just one day left before my giveaway for Melanie Shankle's book "Sparkly Green Earrings" and a pair of Limefreckle "Sparkly Green Earrings", so if you haven't entered already, you can enter thru rafflecopter, right here.
a Rafflecopter giveaway