It's weigh in Wednesday again!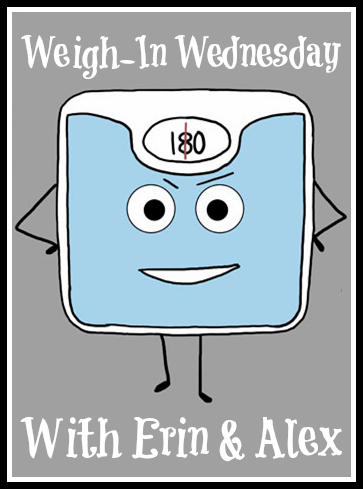 This has been a really rough week for me. I was home all week for March Break with Limefreckle Jr. the weather is CRAP (don't talk to me about the weather, pretty much everyone I know right now is completely on edge and TOTALLY OVER Winter already!) so there was a lot of lounging around the house, and not a lot of activity taking place (unless you count eating popcorn at the movies as activity). Yesterday I finally got back to the gym, today I'm off to hot yoga, I finally feel normal again.
BUT, having said all that, I still lost 1.8lbs, I'm now 196.
I'm not entirely sure how that happened, given my poor eating habits over the past week (OK, they creeped into this week too) but I'll take it! I want to pretend last week never happened, and get back on track because in a couple of weeks I'm going to be in Myrtle Beach, and I can see this whole scenario playing itself out all over again....except in warmer weather - with a drink in my hand.
Isn't it weird how some weeks you work really, REALLY hard and the scale doesn't show it, and others you probably deserve to be up a bit, and the scale is down? I guess that's why you shouldn't rely on the scales too much.
So, lesson learned, back to being a little more thoughtful about what goes into my mouth!
How did you do this week?
And, I know you are probably sick of hearing about it, but today is the last chance to enter my
PIN IT TO WIN IT CONTEST!
Visit my Etsy shop and pin your favourite piece of jewelry to Pinterest. (sign up
here
if you don't have an account with Pinterest yet) Tomorrow morning I will draw one winner and that person will win the piece of jewelry that they pinned. Be sure to leave a blog comment with the url of the pin, so that you will be entered in the contest. If you like more than one item, go ahead and pin them, each separate pin earns an entry.